Crypto investment funds are a central pillar that supports the ever-growing crypto landscape. They invest handsome sums of money in the earliest of projects, nurturing and supporting them to reach unparalleled growth in record times. Put differently, these crypto funds are the "giants" that roam and graze the land through their investments and assistance with many crypto projects. Three Arrows Capital (3AC) was among the greatest of said giants.
---
In light of this past year's bear market, the collapse of Three Arrows Capital (3AC) is not unprecedented by any means. Earlier this year, as the market began to tumble, the "black swan" DeFi project Terra Luna crumbled, leading to the collapse of the entire market as a whole. Since then, other ventures have certainly begun to face the bulk effects of the bear market. Three Arrows Capital is chief among those who have fallen under the scrutinous lens of losing market participants.
In recent weeks, Three Arrows Capital has been accused of overutilizing its leverage to make margin calls. Additionally, it was reportedly involved in seizing the capital of 8 Blocks Capital, estimated at over $1M. Other projects also attested that they fell victim to 3AC's lack of investment transparency. This opacity led to waves of doubt and criticism regarding the leadership capabilities of the founding team. 3AC's silence further solidified the confusion amidst their controversial actions.
This comes as a surprise since 3AC was one of crypto's most prominent venture capital firms. Not only did it manage a large fortune (~$18B according to The Block), but it also was an established supporter of several big projects such as Avalanche (AVAX).
In a sense, the greed of 3AC is the root of its fall. The following analysis of the events preceding the collapse of Three Arrows Capital will demonstrate how market manipulation and strategic obscurity lead to its inevitable demise.
Three Arrows Capital (3AC) is a Singapore-based hedge fund that was founded in 2012 by Su Zhu and Kyle Davies. It originally invested in forex until early 2013, when Zhu and Davies realized the potential of crypto as an industry and shifted the focus of the core team toward the crypto space. Over the years, 3AC's substantial income not only came from arbitrage trading, but also from long-term investments. 3AC has diversified its portfolio into a number of areas, ranging from DeFi, DEX, and Base protocols to substantial funds such as Multicoin Capital and Coincident Capital. According to a January 2021 SEC filing, 3AC owned almost 39 million units of Grayscale Bitcoin Trust (GBTC).
In a thorough analysis of 3AC's portfolio, investors can find increased transparency into the actions and decision-making process of 3AC by observing the vesting schedules of its invested projects. An understanding of this information can help predict the potential cash-out strategy by 3AC.
Su Zhu is the co-founder and CEO of Three Arrows Capital Ltd. His 500K followers on Twitter frequently see him making market price predictions and analyses on his social media platform.
Zhu maintains a solid educational background, having graduated with two bachelor's degrees in Math and Art from Columbia University. Following his graduation, he became a trader at Credit Suisse. He went on to usher in acceptance of crypto on Wall Street, along with the likes of Dan Morehead of Pantera Capital, and Mike Novogratz of Galaxy Digital.
Although he was known as the CEO and co-founder of 3AC, he had the makings of a suspicious Shiller or FUDer, frequently changing memoirs and posting threads on Twitter. For those who do not know, a Shiller or FUDer is a term for someone who often advertises other coins or tokens inside the community of a specific crypto market.
Typically investors remain politically neutral with their portfolios or at least disclose their inclinations through ventures that are announced on their official social channels. However, Su Zhu shared and then redacted his personal investment choices on Twitter. As retail investors, we are very receptive to any indicators of particular investments being favored in the portfolios of influential or institutional investors. As evidence of that, Zhu pandered to many investors' FUD-focus, specifically regarding Ethereum on his Twitter account. In November 2021, Zhu tweeted, announcing that he and his venture no longer supported the Ethereum network. This caused a "drop" in Ethereum prices within the last months of 2021. Interestingly, 17 days after the threads were posted, approximately 156,400 ETH was transferred to a wallet that Nansen has associated with 3AC.
At this moment, Zhu also confirmed the ETH transactions of 3AC, saying that although the Ethereum network is still "unusable for new users," he still "bid hard on any panic dump like this weekend." This statement contradicted his public announcement from the previous month.
The evidence above gives credence to the notion that Su Zhu had previously been a "Shiller/FUDer" for selfish gain.
---
The beginning of 3AC's troubles can be attributed to both internal and external market factors.
External market issues: fragile global financial market by Covid-19, the crisis of Ukraine and Russia
Internal market issues: the fall of LUNA&UST, stETH depeg, and the heavy borrowing of 3AC
The global economic market is in a fragile state, due in part to:
Increased Interest Rates: The SEC implemented a 0.5% hike to interest rates in an effort to control the rampant inflation that emerged from COVID-19. In turn, the cost of capital goes up, meaning that borrowers must pay more money to lenders for loans. In situations like these, investors are less likely to invest in risky assets, such as crypto.
Increased Expenditure: The all-time high inflation in the US led to rising costs of essential commodities like food, gas, etc. As a result, overall, the market maintains a narrower budget for crypto investments.
Supply Chain Shortage: The zero-COVID policy of China has resulted in reduced trade and commerce globally. As a result, the supply of internationally exchanged goods has been shocked to a standstill. This directly has an effect on the pricing of goods, resulting in greater inflation.
Increased Fuel Prices (Ukraine-Russia): The all-time high price of fuel due to the crisis in Ukraine and Russia. Russia controls a massive international gas pipeline that supplies the world with a substantial proportion of available fuel. In the midst of conflict, access to this gasoline is greatly reduced.
These factors severely affected the global economy and the crypto market in particular. The cost of BTC has sharply decreased from 69K to currently 20K, creating a downward trend for the crypto market.
In many ways, the collapse of Terra Luna spelled the beginning of many tragedies that would soon consume the market, and it happened, in great part, due to its 20% APY interest model. When Terra Luna suffered an anonymous breach, the balance mechanism between LUNA and UST could not weather the large wave of selling that soon followed. To escape the risk of collapse, the leading team of the project sold all of the BTC in its reserve funds to re-peg UST, making the market downtrend later. To dive deeper into the downfall of Terra Luna, click here.
Back in April, 3AC's fund was worth over $3B. At that time, a large proportion of that fund was held in locked LUNA on Terra's Anchor protocol, estimated at $559.6M. Unfortunately, with the sudden collapse of LUNA, 3AC lost the majority of its investment in the platform.
The total of 3AC's investment in LUNA is currently worth a meager $700.
On June 7, two anonymous wallets withdrew 54K stETH and 23K ETH. Most possibly, the first attack came from these wallets because the stETH/ETH "depeg" occurred only one day after the wallets completed their withdrawals.
Responding to the threat of losing substantially, "whales" holding stETH transferred stETH to ETH, exacerbating the imbalance of stETH/ETH. Alameda Research was one of the leading participants in this matter when it deployed a transfer transaction with more than 50K stETH to ETH.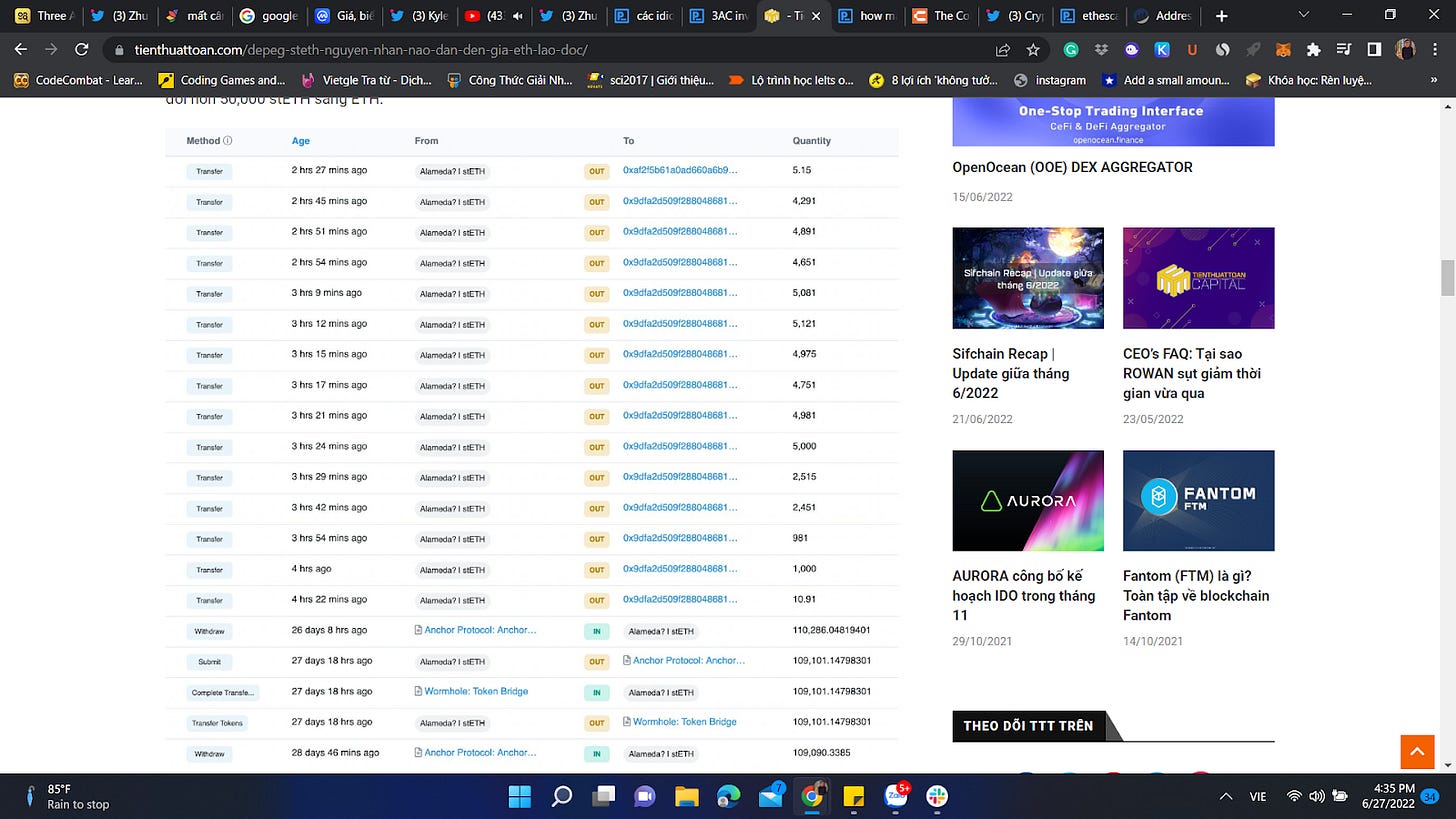 Many big investors followed in the footsteps of Alameda to defend their portfolios.
stETH is a mapping asset of ETH, created by Lido and used as the native token of its platform. The primary purpose of this token is to simplify the incentive program of Ethereum that requires users to stake a whopping 32 ETH to activate validator software. Validators will be responsible for storing, processing, and adding new blocks to the blockchain, for which they will receive rewards after the "Merge". This process is beyond typical retail investors' capacity to deploy. Lido Finance, on the other hand, allows users to stake any amount of ETH to participate in this program. In return, users receive stETH as a reward from Lido and use this token to lend assets on other platforms.
By leveraging this mechanism, 3AC and other venture capitals created a "death loop." Initially, 3AC invested more than $660M to buy ETH and deposited its ETH in Lido to receive stETH at a 1:1 ratio. Since then, 3AC has continuously deposited stETH to borrow ETH on Aave. The borrowed ETH is then sent back to be deposited on Lido. From this cycle, 3AC was able to borrow a large amount of ETH from lending platforms and optimize profit from its debt on Lido. 3AC was thus able to make a profit from this arbitrage opportunity.
This process is called rehypothecation, which creates arbitrage opportunities for 3AC since the borrowing interest is lower than the deposit interest. The APR of staking ETH in Lido is 3.9% while the APR of borrowing ETH on Aave is only 1.88% (using stETH as collateral). It means the drawing profit from this cycle is 2.02% difference between APR on Lido and Aave.
Merge Delay
Another cause of the stETH/ETH "depeg" is the delay of the Ethereum Merge. While Lido allows users to lock ETH to receive a corresponding sum of stETH at a ratio of 1:1, users holding stETH are only able to redeem ETH after the Ethereum merge. After news of the Merge's delay went public, the stETH/ETH pool quickly lost control.
After Alameda's selling signal, 3AC sold off $40M worth of its holding stETH in an effort to keep a $264M Aave loan and a $35M Compound loan from going into liquidation. Already, 3AC had been liquidated by Compound, FTX, Deribit, and others. At this point, 3AC is trading at an unhealthy leverage, standing at a very precarious position.
According to Nansen, 3AC may transfer its assets to exchanges in an effort to cash out. Along with selling stETH, 3AC is believed to have sold most of the tokens from its portfolio in accordance with the changes visible in Su Zhu's biography. Currently, he only keeps BTC on his biography.
Almost all of 3AC's wallets now only hold ETH and stablecoins (USDT, USDC, DAI). It is clear that 3AC is trying to sell all its assets in order to pay off its debts to various exchanges, investors, and partners.
It can be said that the high leverage employed by 3AC across various investment vehicles is the primary reason for 3AC's deplorable situation today.
Many projects similar to 3AC use debt financing to buy ETH, then deposit it on Lido for stETH to arbitrage the differences in interest. As aforementioned, stETH lost its peg, resulting in a"domino effect" of the market with the collapse of Celsius and 3AC.
Ominously, the CEO of 8 Blocks Capital said the firm was "leveraged long everywhere and was getting margin-called." In many ways, this comment is a red flag for investors. 3AC was engaging in what is known as margin trading, by which an investor pays to buy and sell securities using a combination of their own funds and cash borrowed from a broker. Whenever the investor's equity, as a percentage of the total market value of securities, falls below a specific rate requirement, a margin call is triggered. At this point in time, if the investor cannot deposit more money into the margin account to maintain the minimum required margin percentage, the broker will liquidate all the securities associated with the account to the open market.
Surprisingly, not only did 3AC use its capital, but it also used capital from other projects.
3AC took a step further to optimize its profit by temporarily seizing its partners' capital. In November 2020, 3AC signed with 8 Blocks Capital to use their trading accounts for a predetermined fee. According to the agreement, the 8 Blocks Capital team could withdraw whenever they want and would never have their funds used without permission. In return, they would pay fees for 3AC's management fund service.
Over two days starting on June 12th, 8 Blocks Capital tried to initiate a withdrawal from their trading account with 3AC. However, not only did the withdrawal not go through, 8 Blocks Capital realized that there was a $1 million hole in their account with 3AC. Someone from the VC had authoritatively moved funds out of their account one day before the transfer request from 8Blocks.
The fight came to a head when many projects that 3AC invested in, alongside 8 Blocks Capital, accused 3AC of offering them this treasury "management' service for a purported 8% APR guarantee on their treasury. Now, these projects lost the "investment money from 3AC" and a part of their treasury.
According to Dogetoshi, the director of research at The Block, data from Nansen estimated that nearly $7.9M of Kyber's treasury comprised of 2.47M USDC, 2.75M USDT, and 1.331 ETH had been entrusted to 3AC. Now, Kyber lost almost all of these funds.
---
How did 3AC react to allegations?
Su Zhu has tweeted to calm his followers and partners on Twitter, indicating that he is trying to settle with relevant parties.
On the other hand, 3AC sold its NFTs in Starry Night (the NFT fund of 3AC). Specifically, Starry Night has transferred its NFTs worth $21M to SuperRare and cashed out on June 15. This fund will be used for recovering its margin positions on platforms or paying back debts.
3AC has also sold almost all the tokens in its portfolio in exchange for stablecoins, as previously mentioned.
From these liquidations and portfolio changes, it is evident that 3AC is struggling to find solutions to settle its relevant debts. Some of the relevant funds even contacted 3AC to negotiate the terms of their loans to place them under a mortgage. Those that have attempted to reach out have failed to make contact with the core team of this fund.
8 Blocks Capital
On the liquidity provider's side, particularly, the CEO of trading firm 8 Blocks Capital asking platforms holding funds of 3AC to freeze its assets. He argued that "those assets can be paid back in the future after legal proceedings." As of now, none of these platforms have decided to deploy any asset freezing measures.
Kyber Network
Meanwhile, Kyber's co-founder, Loi Luu, hopelessly said that he lost all of his trust and relationship with 3AC, which was built over three or four years. Simultaneously, Kyber is taking legal action to recover its lost fund.
Voyager Digital
In another segment, Voyager Digital, a US-based crypto broker, required 3AC to repay $658M in debt or else it would be placed on default. Based on the information provided by Voyager, 3AC owned 15.250 Bitcoins worth more than $308M and $350M USDC.
BitMEX
According to The Block, 3AC owes BitMEX $6M. The spokesperson of BitMEX confirmed that after liquidating 3AC's positions, it still owes $6M of this exchange. However, the spokesperson also declared that customers' BitMEX would not be affected by 3AC's debt.
Genesis
The customer of Genesis is Babel Finance which directly relates to 3AC and cannot repay its margin call for Genesis. However, the CEO of Genesis, Michael Moro, affirmed that "No client funds are impacted" and he is also confident in recovering any potential residual loss through all means available.
Blockfi
Similar to the CEO of Genesis, CEO Zac Prince of Blockfi also confirmed that they fully accelerated the loan and fully liquidated or hedged all the associated collateral. Therefore, no client funds are impacted.
---
The Consequences of 3AC's Collapse on the Market
Three Arrows Capital is considered one of the top funds in the crypto space, with an asset value of up to $18B (following The Block). This fund is operated by Su Zhu, who loved to utilize massive leverage, following an "eat it all, lose it all" mantra. Thus, when it ran into trouble, it negatively impacted its funds, the applicable lending platforms, and the overall market.
It is simple to understand that when 3ACs' assets were liquidated, the lending platforms involved in the fiasco would sell the borrowing assets and maybe the collateral assets of 3AC to the market and recover their loans. This forced the need to continue to decline. It does not include the panic selling from the other retail investors because of losing faith in crypto.
In the case of 3AC, it is more complicated than a typical case. 3AC borrowed from many different lenders, and when its assets were liquidated, its partners lost a lot of money. Regardless of their relevancy to 3AC, many investors began to panic and withdraw their assets from other lending platforms, opting instead for lower-risk investments like stablecoins. This risk-aversion put lending platforms under significant withdrawal pressure, promoting selling waves that not only became the primary cause of the stETH depeg, but also overwhelmed the market as a whole.
Analytical data reveals that Defi's total value locked declined by approximately $72.4B since it last stable reading at ~$140B in April. Lending platforms were the most affected by a heavy cryptocurrency sell-off in the market. Most notably, borrowing for BUSD on Binance currently stands at 30% compared to its high of 80% back in May. In addition, the lending giant, Aave, has experienced some of the darkest episodes during this time. Simultaneously it was cut off by MakerDAO to prevent the price of stETH from dropping further and stop its users from constantly withdrawing assets to avoid margin calls, causing the TVL of this Aave to dip from $33.51B last October to $8.11B.
From the collapse of 3AC, there are a few key pieces of wisdom that, while not financial advice, may serve as rules of thumb to keep a healthy portfolio in dire times.
Keep stablecoins to manage risk. The crypto market will have "black swan" events that we cannot predict, such as the collapse of Terra, stETH losing peg, Celsius, and 3AC going bankrupt. For this reason, we should always have an amount of stablecoin to respond to worst-case scenarios in the market.
Do not excessively believe in funds. Three Arrows Capital was one of the most significant funds in the crypto space. Therefore, its influence on retail investors was more massive than ever. When the tsunami came, retail investors were the first victims affected by the market. As such, it may be better to reference a fund's portfolio to develop an appropriate investment strategy but not emulate it in its entirety.
Understand macroeconomics, and strive to understand the impact of economic policies on financial markets. In this instance, the FED increased the interest rate to tie cash flow, leading to a higher cost of capital. Using this information, we can predict the flow of investors' capital toward specific investment strategies for similar scenarios.
---
References