First week of the year was waving with so many good news that resurrected the crypto market. Read on with M3TA Recap!
MARKET WRAP
Great Start for New Year as FED Implies The Economy is Decelerating
Cryptos
◉ BTC and ETH broke the price level of $17,000 and $1,250, as the U.S. services industry and manufacturing activities were slowing down.
◉ SOL skyrocketed by 40% following the release of $BONK, a Solana-based meme coin.
◉ MATIC also gained traction following the partnership with Mastercard, recording a 4% uptick.
Insights
Trading Activity for Crypto Derivatives Declines in December
◉ According to CryptoCompare, derivatives trading volumes dropped by 52.7% in December 2022 to a total of $1.16 trillion.
◉ The derivatives volume on Binance has decreased by 50% to $726B.
◉ Trading volume for cryptocurrencies on the CME (Chicago Mercantile Exchange) dove by 49.2% in December, totaling $14.2B.
Plausible cause: FTX's explosion has caused cryptocurrency investors to hunker down from grave risk. This consequently resulted in plummeting trading volume.
Equities
◉ Nasdaq, the S&P 500, and Dow Jones Industrial welcomed their first week of the New Year with green candles showing gains of 2.58%, 2.28%, and 2.13% respectively.
Takeaways
◉ The employment rate was 3.5%, lower than the expected rate of 3.7%.
◉ The US added 223,000 jobs in December higher than the forecast numbers of 200,000 jobs.
◉ Although December job numbers exceeded expectations, the figure was practically much lower than those of the first half of 2022 which was routinely above 300,000. This indicates that economic growth is slowing down.
◉ Many investors hope that FED will ease the predetermined interest rate of 0.5% to 0.25%.
---
DCG - Genesis - Gemini
CEO of DCG Accused of 'Bad Faith' Stalling by Gemini Co-Founder
CoinDesk - January 03, 2023 at 6:04 PM UTC
◉ Accusation: Genesis and its parent company DCG owe Gemini's clients $900M; DCG owes Genesis $1.675B.
◉ Response from Barry Silbert - CEO of DCG: the firm "did not borrow $1.675B from Genesis", has never failed to make any interest payment, and has full control of all unpaid loans.
DCG's Internal Transactions Investigated by US Authorities
Bloomberg - January 07, 2023, at 9:59 AM GMT+7
◉ Federal prosecutors and SEC are investigating Digital Currency Group (DCG) for internal transactions associated with its cryptocurrency lending service.
◉ In a November letter to shareholders, Silbert disclosed that DCG had received about $575M in loans from Genesis Global Capital that are due in May 2023.
◉ He also mentioned a $1.1B promissory note due in June 2032, resulting from DCG's assuming liabilities Genesis had from exposure to Three Arrows Capital.
M3TA Insights
A few risks present here: (1) Creditors' investment from Earn (Gemini) has yet to come to fruition; (2) Genesis is working out to avoid bankruptcy; (3) DCG CEO Barry Silbert remains under the radar; (4) Cameron's letter mentioned co-mingled transactions between DCG and Genesis.
With their massive intertwined portfolio in digital asset investment (https://dcg.co/portfolio/), if DCG defaults, the explosion would send thundering damage to the market, even worse than the last one by FTX.
To uncover the DCG-Gemini-Genesis ticking bomb on Twitter, follow us and the thread here: @M3TA_Analytics
---
Household Argument Between Justin Sun and Huobi Exchange
CoinDesk - January 06, 2023 at 9:56 PM UTC
◉ What: Tron founder Justin Sun fired 20% of employees, banned the staff group chats, and demanded that workers receive their paychecks in stablecoins on Huobi.
◉ Security firm PeckShield noted that Justin Sun moved ~10M USDT from Tron to Binance and ~100M stablecoins (USDT & SUDC) to the Huobi platform.
◉ Price: TRX and HT tokens fell 8% and 11% in 24H, respectively; Tron-based stablecoin USDD lost its peg by 3 cents.
M3TA Insights
The total Proof of Reserve of Huobi is $1.9B (at the time of press) which mostly includes volatile assets (HT and USDT). If these assets, especially non-stablecoin tokens in this pool plunge, the proof of reserve will definitely lose its credibility.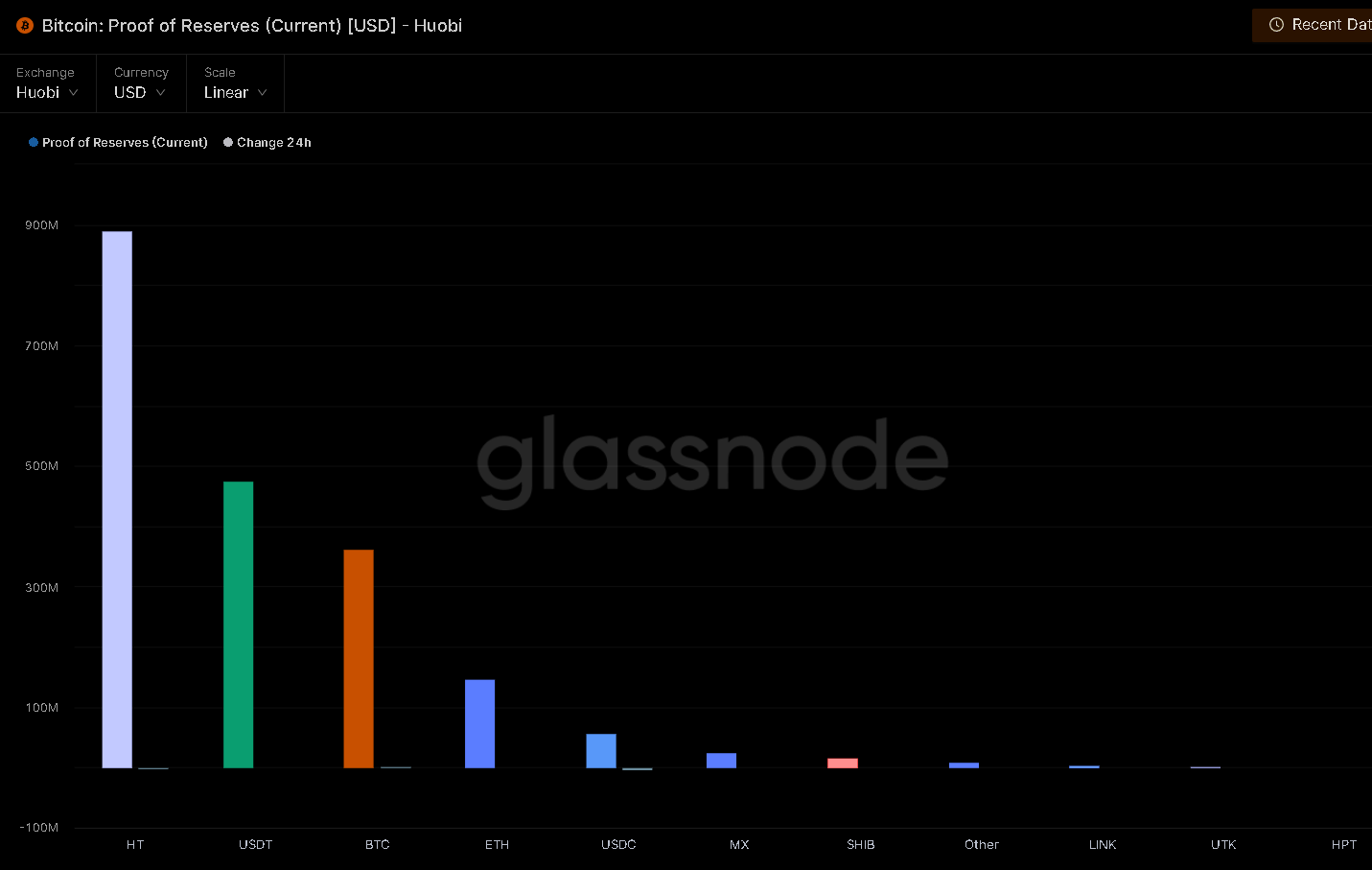 New Memecoin BONK Drives SOL Price to Go Up
CoinDesk - January 04, 2023 at 11:08 PM UTC
◉ SOL also gained more than 35% in 2 days since the release of the $BONK token. This also increased more than $20M in $SOL trading volume.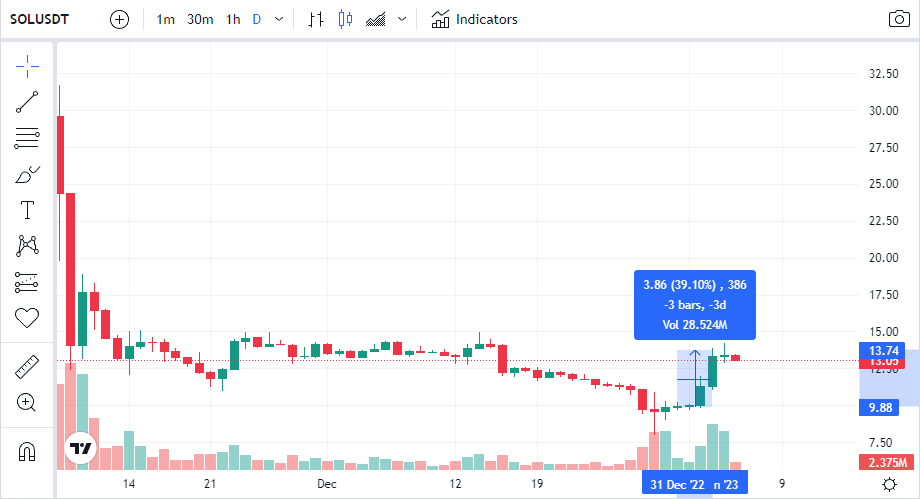 M3TA Insights
Basically, $BONK has two mechanisms for interested users from Solana. $SOL holders receive an airdrop $BONK token and high APR (999%) when locking the token in liquidity pools. It seems very risky when $BONK has both a high APR from DeFi and FDV/MC > 1. Nevertheless, this will benefit $SOL for a short while.
SEC Denied Binance Proposal to Acquire Voyager
CoinDesk - January 05, 2023 at 8:51 AM UTC
SEC's suspicions:
◉ Binance.US needs to provide the capacity details for buying Voyager
◉ Will Binance.US ensure customer assets and their cryptocurrency portfolio balance?
Texas State Securities Board and the Texas Department of Banking objection:
◉ Voyager and Binance.US are not authorized to conduct business in Texas
M3TA Insights
The acquisition of Voyager did not create any particular security concerns that CFIUS could detect. However, it emphasized that due to bankruptcy court restrictions, the organizations have occasionally been unable to transfer assets due to national security concerns.
Voyager's business license is in the US, not sure about Texas, but the acquisition process could be put a stop to if Binance.US cannot prove their financial capacity.
Binance to Acquire South Korean Exchange Gopax (?!)
Cryptonews - January 03, 2023 5:30 PM UTC
◉ Binance bought a majority stake in Gopax and was in the final legal steps.
◉ No official announcement has been made and Gopax has so far denied concurring with the rumor for fear of arbitrariness.
◉ According to Chosun on Jan. 6, Gopax is facing a shortfall of 600 billion won (approximately $471 million) from its deposits in Genesis Trading.
M3TA Insights
During the bear season of 2022, Binance penetrated 2 markets - Japan & Indonesia (All in Asia!). Ergo, it is not surprising that Binance continues its yearly expansion plan to another booming Asian market: South Korea.
However, Binance is being delayed in the acquisition. This could be because after the incident of Luna Terra, Korea got more strict with the laws related to cryptocurrency.
Note: If the negotiations for Binance's acquisition of Gopax shares fail, there is a high possibility that the damage to Gopax investors will become a reality since Gopax has its assets trapped in the Genesis platform.
---
EXPLOITATION
Mutant Ape Planet's NFT Devs Arrested for a $2.9M Rug-pull
CoinDesk - January 06, 2023 at 8:24 AM UTC
◉ The Mutant Ape Planet NFT devs promised to reward those who bought the NFTs, but then took nearly $3 million to their own wallets.
◉ The devs were arrested on the account of false marketing.
M3TA Insights
This was a scam project which promised a lot of benefits for investors, yet refused to fulfill any. These kinds of projects are usually allured to high-value investors who hardly do any homework before making investment decisions. Please Do Your Own Research (DYOR).
BTC Developer Exploited for $3.6M
SiliconANGLE - January 02, 2023 at 4:00 PM UTC
◉ Luke Dashjr - a respected BTC core developer was stolen 200+ BTC right at New Year.
◉ Cause of loss: hacker(s) compromised his PGP key.
◉ He has asked the FBI for help but since, no reply is in sight; however, Binance CEO Changpeng Zhao has offered support and warned of the risk of using self-custody wallets.