MARKET WRAP
1. Crypto Market Swings after Fed's Announcements of CPI and Interest Rate
CoinDesk - December 16, 2022 at 10:17 p.m.
CoinDesk - December 19, 2022 at 10:52 a.m.
Cryptos
How the market conducted itself last week continues to negate the unproven hope held by die-hard crypto fans that nascent digital assets are immune to good-old Wall Street influence. Quite on the contrary, they should brace their fainted heart for a bumpy ride orchestrated by the one and only Federal Reserve last week. While the U.S. Producer Price Index (PPI) data proposed a higher rate than expected, causing the crypto industry to drown a fortnight ago, the Federal Reserve Wednesday meeting seemed to have lifted the bleak sentiment blanketing the whole crypto industry by increasing the U.S. consumer price index (CPI) by only 0.1% in November, following a previous 0.4% leap in October. This asserted a vague indicator that the inflation rate could be slowing down. As a result, BTC made a quick charge to crest the $18,000 threshold or a 2% jump in a matter of minutes following the report publication. ETH also skyrocketed by 6.9% over the 24-hour frame to $1,335.
Nevertheless, just as how Mbappé was able to fire his second score within 90 seconds after the first during the second half final and ended Argentina's premature celebration pre-extra-time, the Fed would go the extra miles to pull a similar stunt in their long-standing combat against inflation and not mind hurting the market a little. Thursday's U.S. Federal Reserve announcement dragged another 50 basis points on their interest rate hike to the total highest level of 4.5% in 15 years. Despite falling within the range of their 5.1% target, it seems that any future rate raise would be like tiptoe-ing on the cracking glass as inflation is anticipated to worsen into 2023. BTC and ETH consequently took the hit, dropping 2.6% and 1.9% respectively from each peak within 1 hour and withering a flat weekend around the $16,700 for the former and $1,180 for the latter.
World Cup Fan Tokens: ARG and PSG
During the past week, as Argentina and France successfully fought their way to the World Cup final, the matching fan tokens that represents Argentina (ARG) and France (PSG) saw whopping double digit gains of 60% and 30%, respectively. As fate has sealed, Argentina honorably stepped up to claim their World Cup Championship title, but the ARG fan token price did not move correspondingly, shedding by ~53%, and the PSG fan token by ~12% within the last 24 hours.
Insights
According to the financial data platform Token Terminal, the number of daily active developers who specialize in blockchain and decentralized apps has been drastically decreasing by approximately 57% this year. There were about 3,700 developers who were seen active in January compared to as few as 1,600 developers on 14 December.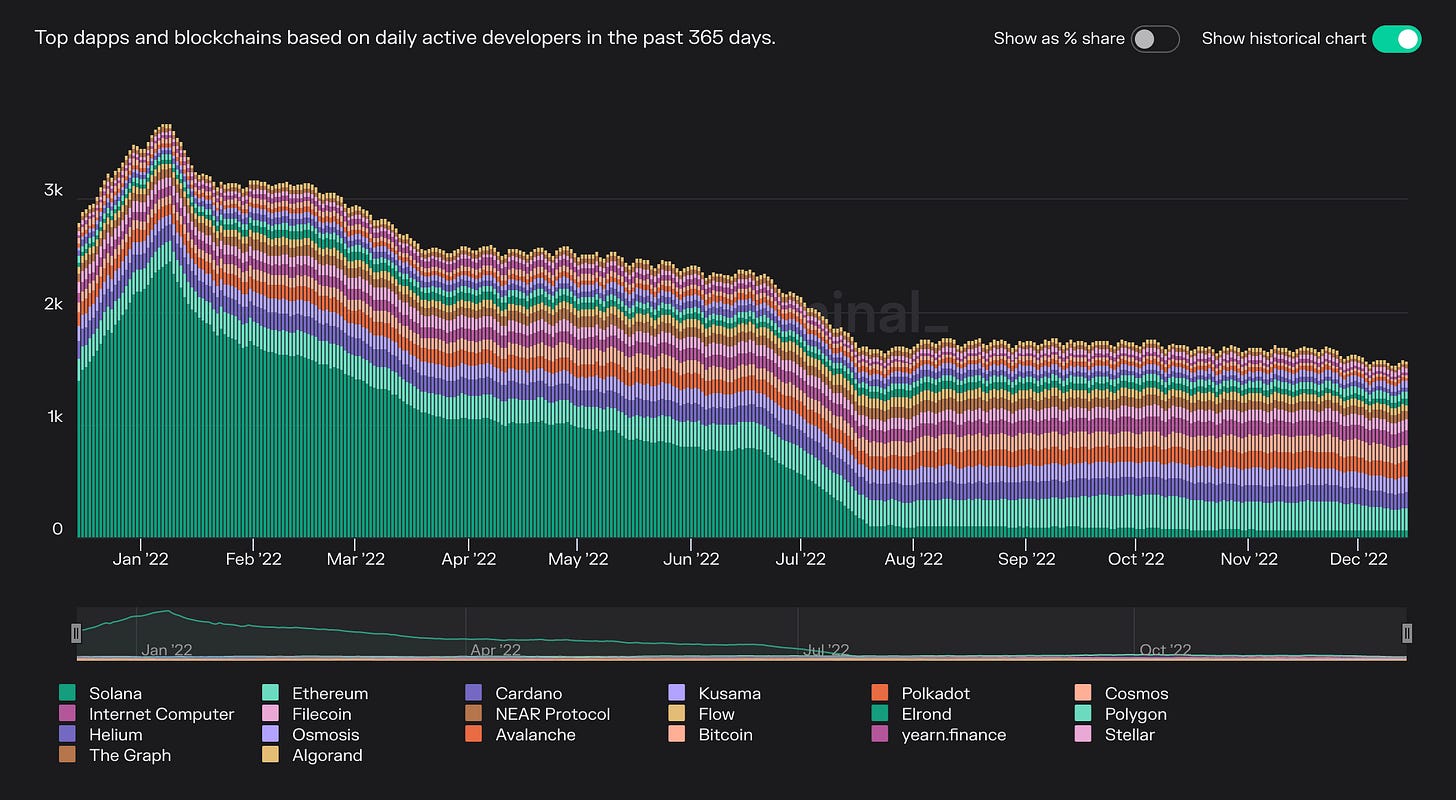 Chris Eberle, angel investor and contributor at Coordinape and PleasrDAO posited that the exodus phenomenon in daily active developers is not overly shocking since a current bear season does not look like the most ideal fertile ground to nurture builders, either. In fact, the conspicuous plummet in the price of cryptocurrencies has eliminated many projects and made risk averse investors largely withhold their cash spending. And do not forget the recent collapse of FTX - one of the largest centralized digital asset exchange - and Celsius - a centralized crypto lender - also played a major part in the decrease of developers in action.
Equities
On track to record its largest daily slump for more than three months, the Dow Jones Industrial Average DJIA, -0.85% dropped 714 points, or 2.1%, to 33,248. S&P 500 SPX and the Nasdaq Composite COMP were both on track to have their worst days yet since September after falling 2.3% and nearly 3%, respectively.
Takeaways
The interest rate is still far from slowing down. The Fed will need to observe a very big increase in unemployment before taking further actions.
Note: To facilitate your reading flow, we now introduce 3 new sections that cater to your reading preferences:
CARDIAC ARREST - shocking news alike
WEAK PULSE - mildly negative news & pre-fall indicators
STRONG PULSE - tech/project development update pieces.
Hope this helps!
CARDIAC ARREST
2. Binance is being Accused of Money Laundering?
M3TA - December 14, 2022
On Monday, Dec 12, 2022, a rising FUD aiming at Binance regarding the exchange charged with money laundering was looming on the horizon. The source was reported to originate from Reuters.
However, the CEO of Binance - Changpeng Zhao refuted Reuters's accusation on Twitter with an attached blog of Tigran Gambaryan, the exchange's global head of intelligence and investigations, claiming that since November 2021, Binance has responded to over 47,000 law enforcement demands.
Although the Reuters article was said to be misleading, it still caused a negative reaction across the board for investors holding BNB - Binance's tokens. As a consequence, the price of BNB dipped more than 6% since the Reuters article was published.
CoinDesk - December 13, 2022
FTX Founder SBF was arrested last Monday evening, December 12 2022 by the Bahamas authorities, indicted on 8 counts including wire fraud, securities fraud, money laundering, and related conspiracy charges. Not long after the arrest, the Royal Bahamas police force confirmed that SBF would present in court in Nassau, Bahamas on Tuesday.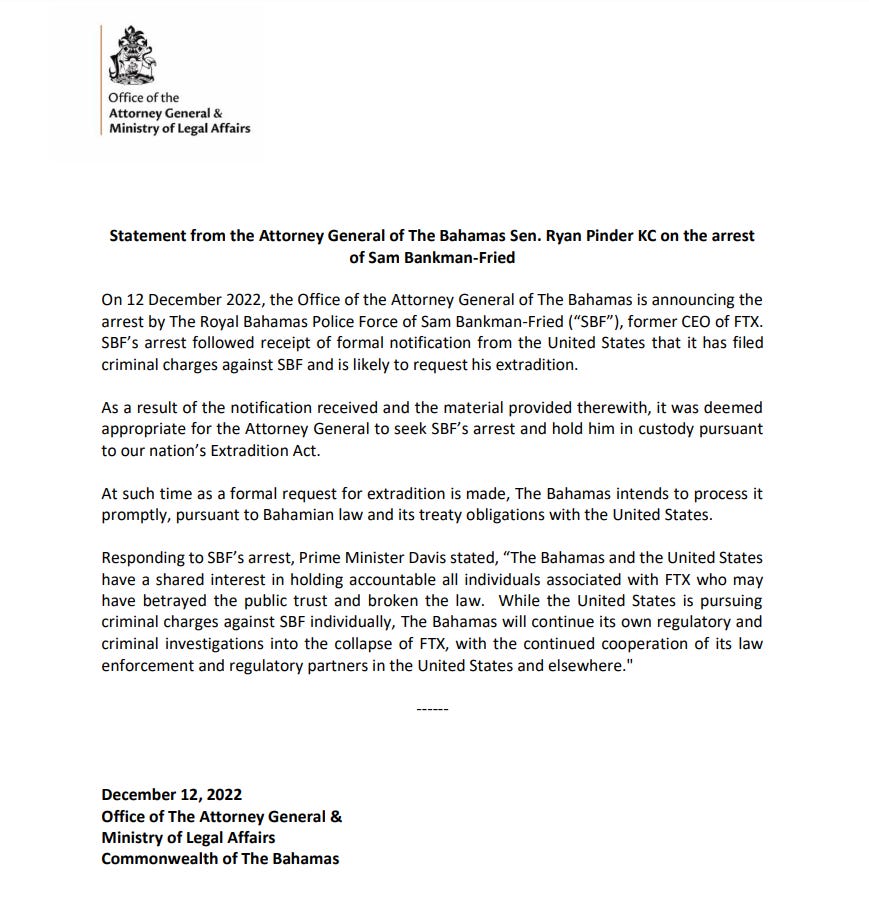 After a protracted hearing, a judge in the Bahamas denied bail for Bankman-Fried later that day, concluding that he posed too great a flight risk and should not be released.
SBF's legal team had initially planned to fight extradition, but official sources disclosed over the weekend that the contesting intention has been dropped. As such, the former crypto billionaire was set to appear in Bahamian court today for a secured return to the States, coordinated by federal authorities. His next hearing has been scheduled to take place in February 2023.
WEAK PULSE
CoinDesk - December 16, 2022
Mazars, the auditing firm has paused its work for all crypto clients, including Binance, Kucoin, and Crypto.com. Mazars said in an email that they only temporarily stopped working on proof-of-reserves reports for crypto companies, citing that this was because of the public misunderstanding of reports that they had released. The proof-of-reserve reports neither provide an assurance nor an audit opinion on the issue. Instead, they present a limited set of conclusions that are based on agreed-upon methods that were applied to the problem at hand historically. Therefore, Mazars retract their reports of a proof-of-reserves assessment of Binance and Kucoin's BTC, ETH, USDT, and USDC reserves.
This has had a detrimental effect on BNB price, sending the token's price down 16% in a day.
CoinDesk - December 13, 2022 at 04:12 a.m. UTC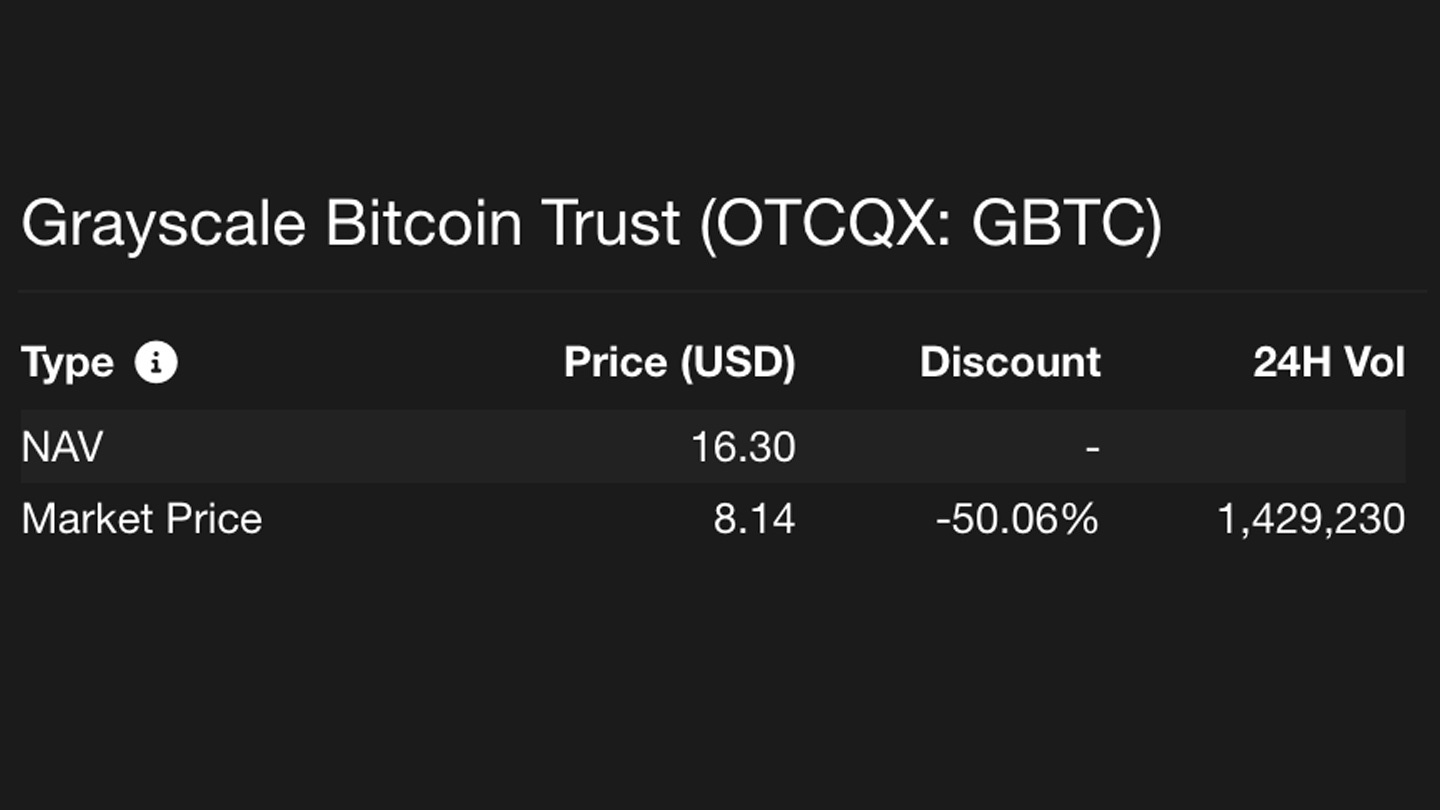 Following the U.S. Securities and Exchange Commission's reiteration of its reasons for rejecting an application to convert the largest bitcoin fund in the world into an exchange-traded fund, Grayscale Bitcoin Trust (GBTC) shares reached a record-high discount rate relative to the price of bitcoin (BTC), pushing past 50% for the first time.
GBTC was created to provide access to bitcoin for investors in traditional markets. The fund presently manages around $10.7 billion in assets, a decrease of 65% over the previous 12 months partly due to the sharp collapse in cryptocurrency values this year. Noticeably, the fund was also trading at a discount because investors, while having the option to sell their GBTC shares on the open market, were unable to exchange their holdings for bitcoin held in the trust.
Additionally, they were being assessed at a 2% fee while Genesis Global Trading, owned by Digital Currency Group (DCG), Grayscale's parent company, might file for bankruptcy.
6. Massive Crypto Firms Facing Year-End "Cut"
Wu Blockchain - December 15, 2022
In the year of down-trend with the recent devastating hit of FTX collapse, it was reported that the crypto derivatives platform Paradigm was slashing employees' salaries by 15%, and Amber Group, a digital asset trading and lending platform, said they would drop performance-based bonuses for 2022; as a consequence, they would axe their workforce from 1,300 to 400 employees this 2022.
Moreover, some inside informants working for Binance gave a sneak peek that their upcoming year-end bonus may be considerably reduced, and several teams have declared that the year-end bonus will not be given to the bottom 20% of employees based on this year's performance ranking.
CoinDesk - December 16, 2022 at 7:53 a.m.
The Dutch central bank has warned the Kucoin exchange of operating without a license in the Netherlands. MEK Global Limited (MGL), which is based in Seychelles and conducted business in the Netherlands as KuCoin, was cited by De Nederlandsche Bank (DNB) as lacking a "legal registration" with the DNB. The lack of registration is considered a violation of the Anti-Money Laundering and Terrorist Financing Act. DNB, however, did not mention what their actions would be if Kucoin continued its operation without a license.
CoinDesk - 16 December, 2022 at 7:32 p.m. UTC
In response to the failure of the FTX Exchange, Amber Group modified its fundraising strategy and raised $300 million in a Series C investment. Amber Group decided to pursue Series C financing instead of its attempts to secure a Series B+ round at a $3 billion value. The firm reported that they have cut down 40% of their staff, 300 employees, restricted staff benefits, and ended a $25 million sponsorship agreement with Chelsea Football Club after the FTX incident.
STRONG PULSE
CoinTelegraph - December 13, 2022
After 22 months of releasing the Binance Pay service to customers outside the U.S., Binance has finally allowed the access of its mobile payments service "Pay" to US citizens. The app allows users to immediately transact without paying fees with approximately 150 supported cryptocurrencies. However, Binance Pay is currently only live on mobile; it will be live on the web version some time soon.
The popular Web3 wallet MetaMask is being integrated with Paypal allowing users to buy Ethereum seamlessly through PayPal accounts as a payment option for ETH in the MetaMask app. Although not yet accessible to all users in the United States, MetaMask intends to gradually roll out the capability in the coming weeks.