Introduction
Klaytn, developed by South Korean internet super giant Kakao, is a unique, centralized blockchain that was launched in June 2019, with the go-live of its mainnet, known as Cypress. After only a couple of years, however, Klaytn quickly shot up to the top 20 tokens by market capitalization on CoinMarketCap.com, after its announcement of a partnership and integration with OpenSea. Since then, Klaytn has been on the radar of investors and developers alike as a viable blockchain environment for app development and publication, across many web3 use cases.
The following paper will focus on the breadth of the Klaytn app ecosystem as it stands today, which spans from rather familiar wallet applications and DeFi platforms to full-scale GameFi-centric metaverses. To ground the discussion on these various applications and their associated impact on the growth of Klaytn as a smart-contract-enabled blockchain, this paper will begin with a brief overview of Klaytn's background and hybrid blockchain infrastructure. Following, this paper will examine the performance capacity of Klaytn, which in turn dictates which will dictate the relative sophistication of application functionality that is possible within the ecosystem. Finally, a dive into the various application use cases will examine the diversity of applications, the relative success of one application over others, and how these comparative performances reflect upon the price of Klaytn's native token, $KLAY, both now and in the future.
---
About Klaytn
Background
Klaytn was designed as an enterprise-ready blockchain with speed and versatility in mind. Founded by Kakao, the leading internet and messaging company in South Korea, via its Japan-based subsidiary Ground X, Klaytn is a highly centralized blockchain whose consensus nodes are comprised of 36 global corporations, who make up the Klaytn Governance Council. One of the largest blockchain alliances between enterprises, the Governance Council brings a high level of reputation, industry expertise, and industrial relations to the table, allowing Klaytn the opportunity to iterate upon its blockchain ecosystem rather quickly.
The origin story of the Klaytn blockchain is worthy of note, given the fact that South Korean legislation bans ICOs. Much like Facebook's since-past Libra project, Klaytn was not able to fundraise the way most crypto projects do. Instead, Kakao circumvented domestic legal regulations by formulating subsidiaries in more lax financial jurisdictions. The first of these was GroundX, which is based out of Japan and is responsible for the technical development of the Klaytn blockchain. The second of these was a partnership with Dunamu and the Bittrex crypto exchange to launch a new South Korean exchange known as the UPbit Exchange. Soon, both UPbit and GroundX expanded operations to Singapore, allowing for an ICO to be conducted with minimal legal interference in 2018. Finally, Klaytn restricted access to its ICO from retail investors, a strategic move that was essential to align with the legal regulations in South Korea, Japan, and also the United States.
What is Klaytn?
Klaytn is intended to be the backbone of many South Korean enterprises, including Samsung, LG, and naturally, Kakao, whose messaging app KakaoTalk is used exclusively by over 93% of South Korea's population. For this purpose, Klaytn was designed to be an enterprise-ready blockchain with considerable scalability and speed.
- 1-second block generation and confirmation time
- 4000 transactions per second
- Low gas fees (approximately 1/10 of Ethereum)
- Runs a version of Ethereum Virtual Machine, known as the Klaytn Virtual Machine (KLVM), and supports Solidity smart contracts
- Fast and simplified blockchain deployment through Klaytn API Service
While many "Ethereum-killers" boasts a high TPS, this performance metric is not the only crucial one to consider, especially for a blockchain intended for business use. Latency, or the time required for a transaction to be included in a block, as well as time to finality – the time it takes for a blocked transaction to be verified and made irreversible – are essential qualities needed for enterprise adoption. Without these, the possibility of transaction delays or, worse, a reversal of a transaction, is a risk too great to bear for large corporations. Klaytn provides the means for reliably fast block generation and confirmation, thus making it one of the best L1 solutions for enterprise purposes.
Klaytn also provides a collection of APIs for developers to utilize in the creation of blockchain applications. These allow for rapid testing and implementation of new blockchain services, including queries, metadata, tokens, and wallets. The reduction in development time and costs resulting from these tools allows for new applications and services to enter the ecosystem rather quickly, which is ideal for enterprises.
Blockchain Infrastructure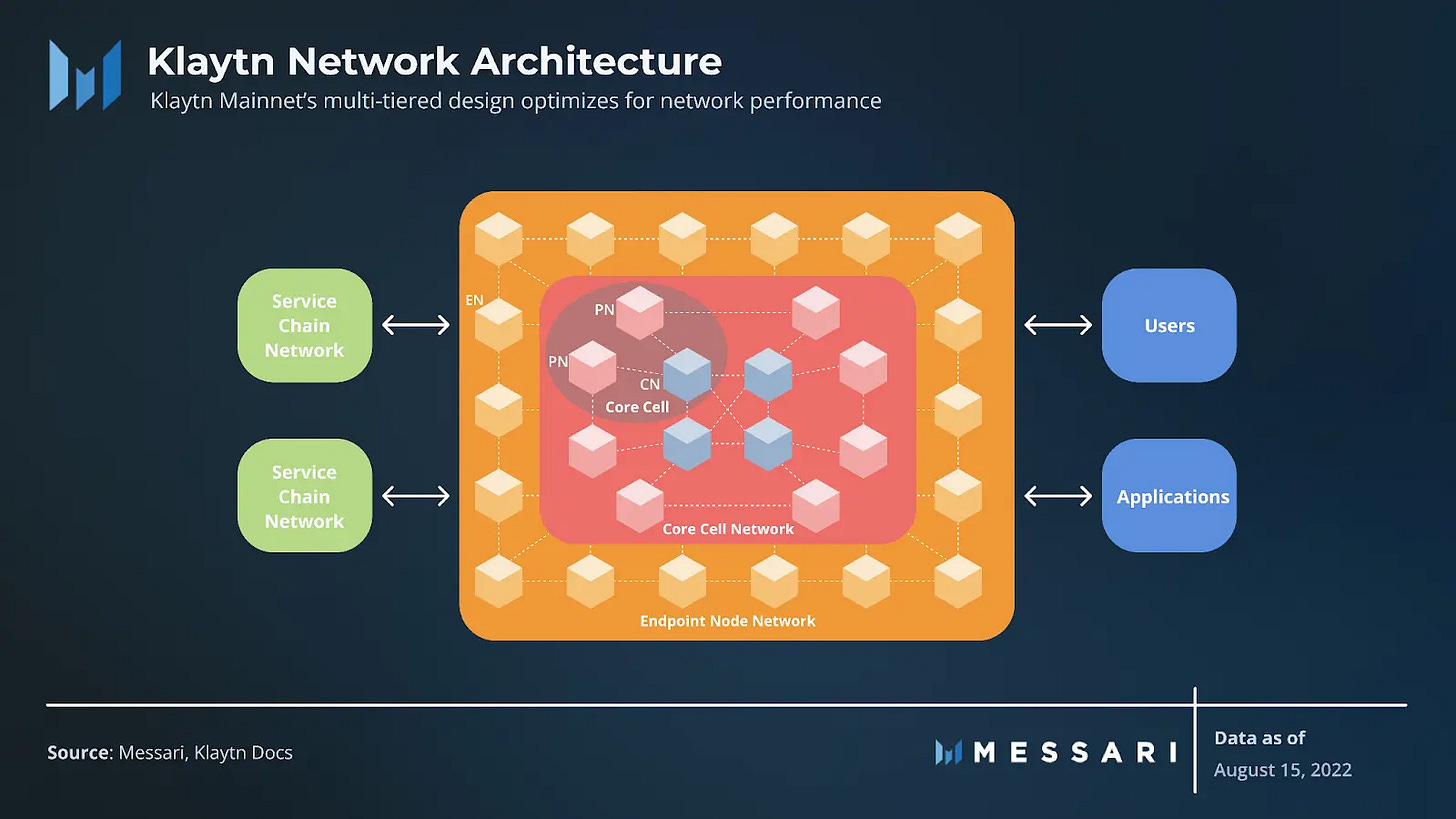 Klaytn is a smart-contract-enabled blockchain that is composed of three distinct networks: The Core Cell Network (CCN), Endpoint Node Network (ENN), and the Service Chain Network (SCN). The CCN is responsible for consensus and block creation. The ENN creates transactions, handles RPC API requests, and acts as the connection between the CCN and end-users, applications, and the SCN. These two networks comprise Klaytn's Mainnet.
The SCN, on the other hand, is a collection of auxiliary chains, i.e. sidechains, that run on the Klaytn Virtual Machine (KLVM), which is EVM equivalent. EVM equivalence refers to a blockchain's ability to allow protocols from other EVM environments to launch on Klaytn without changes to their Solidity code. In simpler terms, this means that commonly used application environments from Ethereum can be implemented immediately on the SCN if developers choose to copy and paste their applications' code. In the future, this EVM equivalence is a standard that will likely accelerate the growth of Klaytn's app ecosystem far faster than those of blockchains that are only EVM-compatible.
The Service Chains also serve as the foundation for enterprises to own dedicated, customizable execution environments of their own. As such, the various sidechains that emerge on Klaytn may vary in terms of their level of decentralization and security, but for the most part, they are well-suited to the high TPS and encrypted data needs of financial institutions and other business entities.
---
Ecosystem
Klaytn Governance Council (KGC)
For the most part, Klaytn's mainnet is able to achieve a high TPS, low latency, and near-instant finality due to its centralized validation model. As mentioned above, Klaytn's consensus nodes are a committee of 36 enterprises that comprise the Klaytn Governance Council. This Governance Council is rather homogenous in industry scope, though it has become more decentralized since the summer of 2019.
Currently, among these 36 entities, more than half are traditional corporations. These include six companies belonging to Kakao, including Kakao Corporation, Kakao Entertainment, Kakao Pay, GroundX, Kakao Space, and Kakao Games, while an additional 14 entities belong to other non-crypto industries, including game development, news media, marketing, cybersecurity, telecommunications, consumer electronics, domestic retail, and information technology, to name a few. Among this group, the greatest proportion of members belongs to gaming. Aside from these members, there are an additional 16 organizations that are web3-focused or crypto-native, including DeFi protocols like MakerDAO, research symposiums and crypto VC's like Alameda Research, exchanges like Binance, and GameFi collectives such as Thrust.
Web3/Crypto-native
MakerDAO (DeFi)
Alameda Research (VC and Research)
NFTBank (NFT)
Binance (Exchange)
Hashed and Ozys (VC and DeFi)
Neoply (DeFi Accelerator)
Post Voyager (Sidechain)
Kracker Labs (DeFi)
Sygnum (DeFi)
Hashkey (VC and DeFi)
Thrust (GameFi Incubator) – Will replace Kakao Space
Gumi (GameFi Developer)
Krosslab (DeFi Infrastructure)
Verichains/VNG (Cryptography)
AQX (DEX)
Jump (DeFi Infrastructure)
Kakao Organizations
Kakao Corporation
Kakao Entertainment
Kakao Pay
GroundX
Kakao Space
Kakao Games
Web2 Corporations
Netmarble (Mobile Game Studio)
Futurestream Networks (FSN) (Marketing)
Korea Economic Daily (KED Global) (News/Media)
Maekyung Media Group (News/Media)
WeMade (Game Studio)
Pearl Abyss (Game Studio)
Celltrion (Pharma/Healthcare)
Ahnlab (Cybersecurity) – has a blockchain subsidiary
SK Networks (Telecom)
LX International (Supply Chain)
Everrich Group (Real Estate)
LG Electronics (Consumer Electronics)
Hanwha Systems (Defense and IT)
GS Retail (Domestic Retail)
While the distribution of companies appears to lean toward a centralized and somewhat corporate leadership, Klatyn has announced a number of changes to introduce more web3-native players into the Governance Council aggressively. In particular, it recently introduced web3 infrastructure firm Jump Crypto and NFTBank as the latest crypto-native members to replace Worldpay and AmorePacific, respectively. In the coming months, it plans on including 1inch, a DEX aggregator, and Krosslab, a blockchain infrastructure organization, as well. And on top of these, the newly introduced Thrust GameFi incubator, which already has a seat on the council, will be replacing KakaoSpace functionally, once its stake is revoked. All other Kakao entities will follow suit, minimizing their relative power by reducing their respectively staked amounts to the minimum of 5M $KLAY.
At the end of August, despite the changes to the Governance Council roster, there was still a less-than-ideal relationship between the increased number of crypto-native members on the GC and the less substantial growth in their total stake. According to a report on Messari only some weeks ago, "the percentage of GC members focused on Web3 has increased over 6x from 6% to 37%," but "their combined share of block production has only grown by 3x."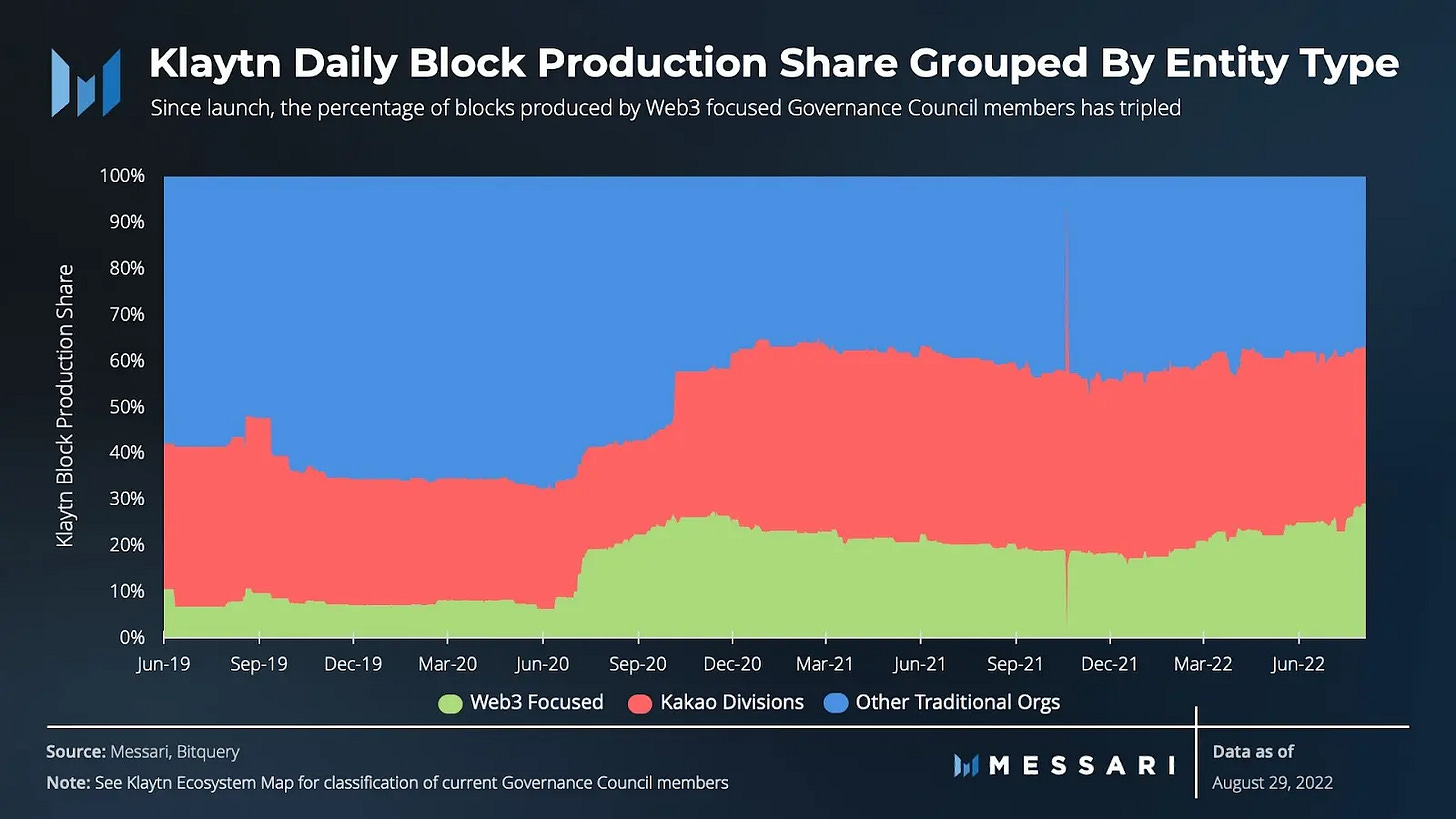 Since then, however, much has changed for the better. According to Klaytnscope, approximately 44% of the GC population are now crypto-native organizations, and they make up 44% of the total staked $KLAY on the GC. In short, within the month of September thus far, the Klaytn Governance Council has made significant leaps in progress toward inclusion and decentralization from a leadership perspective. This bodes incredibly well for increased adoption of the $KLAY token since a greater presence of crypto-native entities on the Council will imbue the $KLAY token with greater trustworthiness in the eyes of web3 communities. Still, many Klaytn observers, including us, would prefer to see these web3 Council members stake more. As of now, the majority of them have elected to stake only the minimum of 5M $KLAY to retain their status. Greater investment in the GC staking pool would signal a stronger voice from the decentralized entities on the Council.
App Sectors
The rest of the Klaytn Ecosystem, apart from the Governance Council, is highly reminiscent of that of Ethereum, which stands to reason, given the existence of the KLVM. While the number of applications on Klaytn grows quickly, the majority of user activity – and thus economic activity – that occurs on the network fall into the following main categories.
DeFi
At the time of writing, Klaytn's DeFi application environment ranks 13th on DeFiLlama in terms of Total Value Locked (TVL), with only 30 listed protocols. Its rank on this TVL leaderboard is an interesting observation that illustrates a number of unique characteristics of the Klaytn DeFi application ecosystem.
The first of these is that its current TVL is $337.64M across 30 protocols. This is significantly less than its peak TVL in April 2022, when it hovered just around $1.3B. This reduction in TVL is a result of the bear market conditions that now pervade the economy. However, according to Messari, Klaytn's current TVL is still an increase of 73% YTD, meaning that Klaytn outperformed the relative market this past year. This is promising news for active DeFi users on Klaytn. This growth metric alone should not be considered the only required evidence to illustrate Klaytn's success; there are other factors that influence the number of active users over a given time period, such as ecosystem upgrades in the form of partnerships, which Klaytn certainly had the pleasure of receiving.
Second, the success of Klaytn's DeFi ecosystem leans disproportionately upon the shoulders of only a few key players. Klayswap, for example, is the largest DEX on Klaytn. According to DeFi Llama, the protocol has $177.04M locked on its LPs, which is 52.29% of all the TVL on Klaytn. This does not include the additional $26.74M that is staked on Klayswap. Notably, a significant portion of this liquidity can be attributed to cross-chain liquidity provided by Orbit Bridge, which enables support for asset importation from major L1s. Tokens available from Orbit Bridge include $KETH, $KUSDT, $KORC, $KWBTC, and $KDAI.
While there are other noteworthy AMMs and staking protocols, including but not limited to Klaystation, Kokonut Swap, KLEX Finance, and more recently Klap, which is the leading overcollateralized lending protocol with about $18M TVL, it is clear that the Klaytn Defi ecosystem endures heavy dominance by Klayswap. This, in itself, is not necessarily a good or bad quality for the Defi landscape on Klaytn; however, it does demonstrate how centralized the so-called "Defi" Klaytn app ecosystem truly is.
There are several instances this past year that show the risks associated with this. Terra Luna, Celsius, and other "Black Swan" events succinctly summarize the financial and emotional rollercoasters that Defi enthusiasts were subjected to against their better judgment. Klaytn is no exception, and, in some ways, represents even clearer the risks associated with a cryptocurrency that is handled centrally. In February this year, Klayswap underwent a hack that resulted in the loss of ₩2.2B (Korean Won), or roughly $1.9M. The hack was not directed at the protocol, but KakaoTalk, the same messaging application service used by Klayswap for marketing purposes.
Overall, the Defi landscape on the Klaytn blockchain is nothing to scoff at given its relatively impressive performance in the face of adverse market conditions. A majority of its transaction volume is held disproportionately between the largest Defi applications on the blockchain, but this is not uncommon and other L1 blockchains also demonstrate this quality. Most importantly, it is clear that Klaytn is making a huge step in the direction toward decentralization, stemming from the quickly changing roster of its Governance Council. As more DeFi and other crypto-native financial entities, including VCs and incubators, stake $KLAY to join the Governance Council, the Klaytn Defi space may grow more democratic and more profitable.
GameFi & Metaverse
On-chain games represent the next largest app sector within the Klaytn ecosystem, and in some ways, it is the primary focus of Klaytn and its Governance Council peers. According to a blog post on the Klaytn Medium earlier this year, "Klaytn is making an aggressive turn toward the metaverse by tuning the entire platform for metaverse use cases. These include AAA games, play-to-earn (P2E) games, non-fungible tokens (NFTs), and supporting Defi services for metaverse businesses." In short, Klaytn plans to leverage gaming – both traditional and crypto-native – to accelerate the widespread adoption of metaverses that integrate disparate app sectors, like Defi and NFTs.
An examination of the SCN demonstrates just how invested Klaytn and its Governance Council are in the expansion of gaming over any other app sector. All four of the current active Service Chains are gaming-focused and are managed by a Governance Council member.
MarbleX, a blockchain subsidiary of Netmarble, the largest South Korean mobile-gaming developer, was responsible for the P2E mechanics added into games like A3: Still Alive and Ni no Kuni: Cross Worlds, which represent several million downloads on the Google Play store.
NEOPLY is another GC member and is the blockchain subsidiary of NEOWIZ, a game publisher. Their title, Crypto Golf Impact is also very popular, and its token Neopin ($NPT) is valued at $1.30 at the time of writing, compared to $0.21 for $KLAY.
WeMade's subsidiary Wemix is the developer for the historically most popular game on the Klaytn blockchain, MIR4. This game, as mentioned in the Klaytn 2.0 lite paper, attracted 1.3M concurrent players within 3 months of launch in over 170 countries.
Bora is a subsidiary of Kakao Games and migrated from an Ethereum sidechain to Klaytn at the end of last year. There are many crypto games on this chain, including Birdie Shot, Competz, ArcheWorld, Meta Toy DragonZ, and SuperWalk.
Given the numerous infrastructural spaces granted to gaming, it would stand to reason that games represent a large share of the active users and transaction volume that flow throughout the ecosystem. However, interestingly, much of this information is hard to find. The reason for this is that data for games on Klaytn are not integrated into any single database or explorer that is publicly available. In fact, according to Klaytn's website, there are only 32 games that comprise the game ecosystem. The truth is that there are dozens of other titles built on Klaytn. These include new titles like Drawshop Reverse Kingdom, Limbus, and more. For new entrants into the GameFi environment on Klaytn, the inconsistency between the information provided by Klaytn and the other decentralized entities in the ecosystem is confusing.
One other noteworthy characteristic of games on Klaytn is the integration of Defi tools. Many games like Drawshop Reverse Kingdom exist as the playable arm of fully-developed metaverse economies. In this game, for example, the $JOY token is not only able to be staked but also swappable within liquidity pools on Klayswap. In other words, for certain tokens, the game universes that house them are infrastructurally larger than the Defi mechanisms used to trade them. In this way, Klaytn games are the lifeblood of the Klaytn app economy, as they integrate Defi and NFTs via access to multiple non-gaming platforms.
NFTs
The last major app sector on Klaytn is, unsurprisingly, NFTs. Klaytn's claim to fame in many rights was the introduction of Klaytn-based NFTs to OpenSea in Q2 of 2021. Prior to this integration, OpenSea exclusively hosted Ethereum-based NFT collections, either on Ethereum or Polygon, another Ethereum Layer 2 sidechain. Naturally, given that OpenSea is the most popular NFT platform in the world, NFT projects are rarely launched on any other smart-contract-enabled blockchain besides Ethereum. Despite the plentiful selection of NFTs on the platform, buyers and sellers alike shared certain infrastructural challenges with Ethereum, such as steep gas fees and slower transaction confirmations.
Since the integration of Klaytn on OpenSea, over 1,800 Klaytn-based NFT projects have surfaced, resulting in a huge diversity of assets for Klaytn users to buy, sell, and trade. Much like other app sectors like DeFi and GameFi, Klaytn's NFT market has grown tremendously due to the synergistic effect of its Governance Council partners. Beyond OpenSea, Klaytn allows users to purchase $KLAY using MoonPay, an American payment platform that allows users to transact with credit and debit cards, Apply Pay, and other traditional payment methods. Combining this service with the Kaikas and Klip wallet services, the Klaytn NFT ecosystem provides a seamless path to purchase NFTs that new users can take advantage of. After purchase, users ccan also store and view their NFTs using NFTBank, another incoming Governance Council member.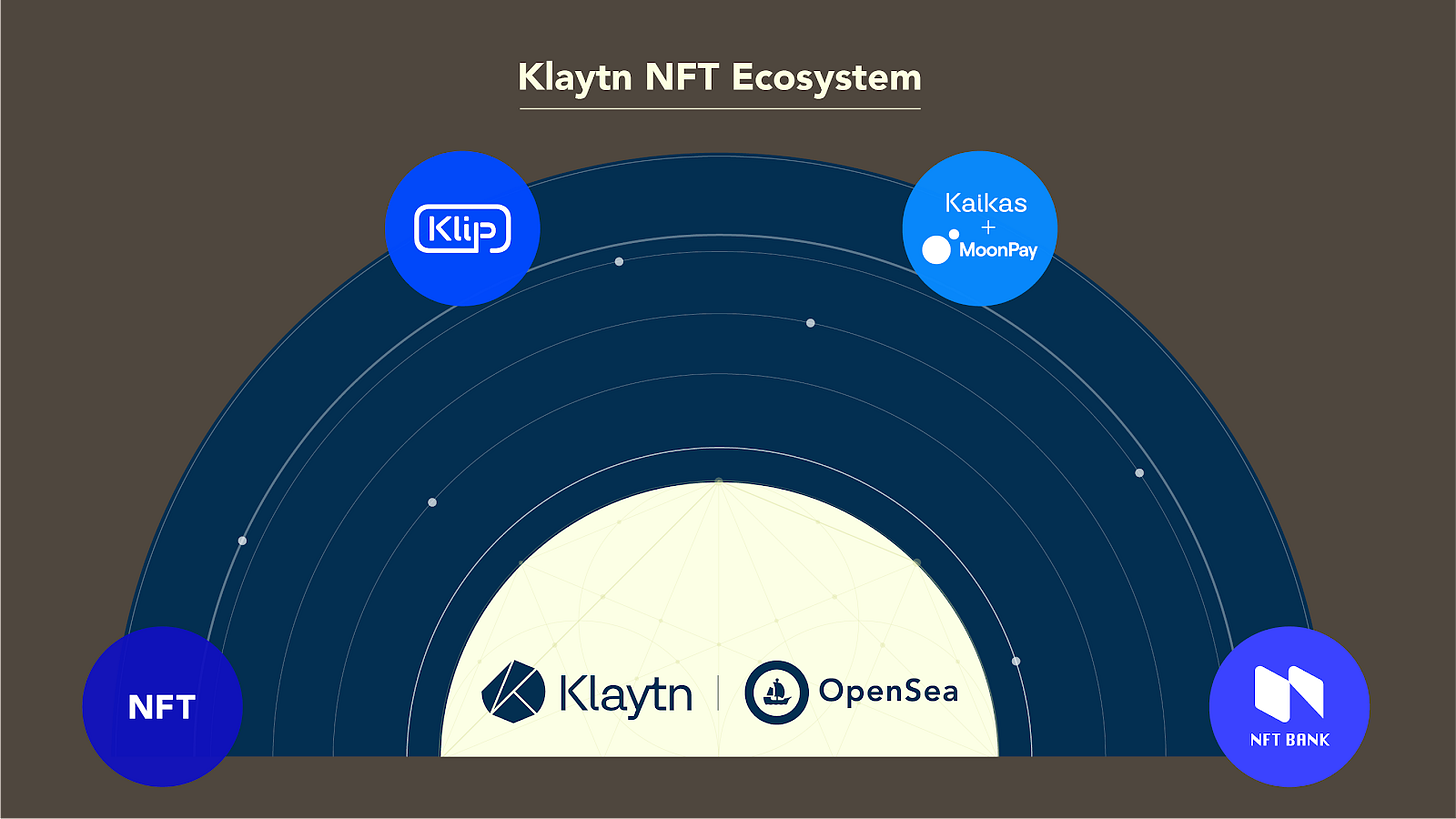 What is most intriguing about Klaytn's NFT ecosystem is how it integrates with other dApp sectors like GameFi. Among the top 10 NFT projects of all time by transaction volume, 4 belong to P2E GameFi titles, including Meta Toy DragonZ, SYLTARE-OFFICIAL, SheepFarm, and Meta Adventure. However, among the top 10 NFT projects within the past week, 5 of these belong to games, including titles like Arche World, Drawshop Kingdom Reverse, and Birdie Shot. The growing success of GameFi-based NFT collections is further evidence of Klaytn's metaverse-oriented approach to expansion.
---
Future Growth
Within 2022, Klaytn announced several initiatives tailored to this metaverse-first plan of growth. These plans are bundled in Klaytn's "Metaverse Package" which comprises the infrastructural changes that support Klaytn 2.0. Outlined within its lite paper published in February this year, Klayn 2.0 strives to be a "one-stop" chain for metaverse builders, and the following changes will facilitate that vision.

Major Ecosystemic Upgrades:
A game developer toolkit, including L2 solutions for Klaytn and an SDK
EVM-equivalence
Community building efforts
Financial and strategic advising for high-potential projects.
Expansion of GC with more decentralized entities
Other mainnet improvements also include
Greater scalability via L2 service chains
Improvements to token management and oracle tools
Greater usage of bridges to promote blockchain interoperability
Inter-Planetary File System (IPFS) gateway integration for decentralized storage
Smart contract library.
Already, much progress has been made on these intentions, especially on the decentralization front. Specifically, the Klaytn Foundation, which is headquartered in Singapore, intends to grow the Governance Council from its current maximum capacity of 50 members to 100. Optimization of its current consensus mechanism is necessary to achieve this, but upon doing so, the Foundation will work toward increasing the proportion of DAOs to make up 30% of the total body. This does not necessarily include other web3-native firms like GameFi projects, DeFi protocols, or blockchain infrastructure providers.
On top of this, the Foundation hopes to bring greater transparency to its governance process by moving its procedure from Web2 tools like Slack and Google Forms onto an on-chain portal, reportedly by the end of 2022. All of these membership changes are designed to improve the diversification of governance participants and shift toward partnerships with decentralized bodies keen on realizing metaverse outcomes.
The reformation of the Governance Council is also aimed at increasing the level of active participation of its members in improving the app ecosystem for end-users. Some of the existing and incoming GC members who own crypto-native projects will likely elect to bridge their protocols to Klaytn's mainnet or even create their own Service Chain. Other partnerships like this are also in the works outside of the Governance Council. For example, in July last year, Ground X began its work with ConsenSys to develop a Central Bank Digital Currency (CBDC) for the Bank of Korea, which will operate on a private Service Chain.
The Klaytn Foundation also intends to create a blockchain on China's Blockchain-based Service Network (BSN), which is a library of blockchain frameworks that China plans to standardize for all blockchain deployments within the country. This Chongqing Chain will thus allow Klaytn to access the Chinese blockchain network and provide a global user base to Chinese developers.
---
Summary
The Klaytn blockchain represents a vibrant ecosystem built upon the resources of traditional Web2 companies and grown with the input and goals of native Web3 organizations. This juxtaposition of centralized and decentralized forces in the development of a blockchain is unique. While there are certainly a number of setbacks that Klaytn has had to overcome, including network congestion as a result of its increased popularity at the end of last year, and a sizeable hack upon Kakao, the central entity behind Klaytn, the blockchain made significant leaps in growth that are difficult to ignore.
Primary among these is the integration of specific ecosystem partners who have brought Klaytn and its native token to the attention of the global market. OpenSea integrated Klaytn NFTs as the first non-Ethereum assets available to purchase on its platform. From there, other Governance Council members have increasingly contributed their services and infrastructures to the ecosystem, such as Klayswap and Orbit Bridge for DeFi and numerous GameFi projects that serve as the foundation of future metaverse projects.
The Klaytn Foundation has made big steps toward this metaverse-centric iteration of the Klaytn blockchain, and it will continue adding Governance Council members, increasing computational capacity, and developing new partnerships to achieve this goal. Given the quick ascent of Klaytn's native token $KLAY and its relatively positive performance across exchanges, it is clear that Klaytn will remain to be a significant ecosystem among smart-contract blockchains, as long as the Klaytn Foundation and Governance Council continue to foster the diversity of decentralized decision-makers and applications that provide value to its users.